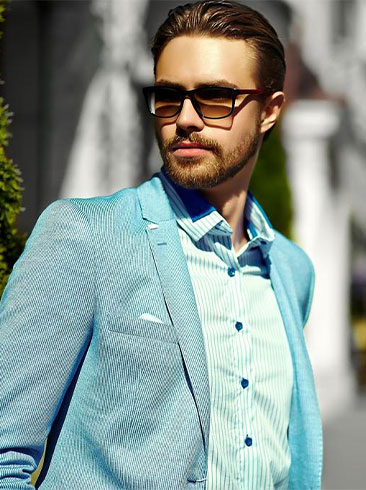 Prescription Eyeglasses in Calgary
Visit an optical centre near you that you can trust. If you're looking for an optometrist in Calgary, Eyecare Plus is your complete eye care destination. From a comprehensive eye examination to exceptional shopping assistance, we make taking care of your vision convenient and fun. We stock a wide range of luxury eyeglass brands to choose from and we're certain you'll find a style you love.
Comprehensive Eye Exams
Glasses are more than just a fashion statement. Routine eye exams are an important part of maintaining your health. Our optometrists can tell a lot about your health by examining your eyes, screening for corneal diseases, inflammation, macular degeneration and signs for pre-diabetes.
A Wide Selection of Luxury Eyewear Brands
Eyewear is about expressing your unique style and character. At Eyecare Plus, you can shop from over 30 luxury eyewear brands that exhibit quality craftsmanship and individuality. As a boutique shop, we're all about delivering exceptional service, as well as helping you decide on frames that suit your features and prescription requirements.
Affordable Pricing
Luxury products and services don't need to come with a hefty price tag. Eyecare Plus offers 2 for 1 eyeglasses in Calgary. This means you can shop multiple looks or get prescription sunglasses 
and
 glasses to provide you with multiple and functional options in your wardrobe.
Our Eye Examinations Include
2 For 1 Designer Eyeglasses In Calgary
If you're looking for eyeglasses near you at an affordable price, Eyecare Plus has you covered. We have an extensive selection of luxury and budget brands with a 
2 for the price of 1 special. Over the years, we've built a reputation for supplying funky, chic and timeless frames to suit many different face shapes and styles. Whether you'd like a pair of prescription sunglasses and glasses for everyday comfort, style and functionality or need multiple pairs to accessorize your wardrobe, Eyecare Plus provides a wide range of affordable options for everyone.
Prescription Sunglasses
Calgary is the sunniest city in Canada, with an average of 333 sunny days in the year! Investing in a pair of prescription sunglasses can give your eyes a break from contact lens use and provide regular eyeglass wearers with the protection they need from the sun. 

Shop from an unparalleled selection of affordable and luxury brands with the help of our personalized shopping service.
Why Choose Eyecare Plus?
We're dedicated to providing Calgary with the highest quality eye care solutions at the best prices with a convenience factor. Get your complete eye exam done with our experienced optometrists and then shop from our wide selection of luxury and affordable brand names with our dedicated team of opticians who can help you choose frames that suit your features and match your style.
Personalized Shopping Experience
We see the latest trends and styles in eyewear come in and out of our shop. It can feel overwhelming to shop for eyewear with so many options — so let us help you find a style that you love and that will suit your prescription and facial features.