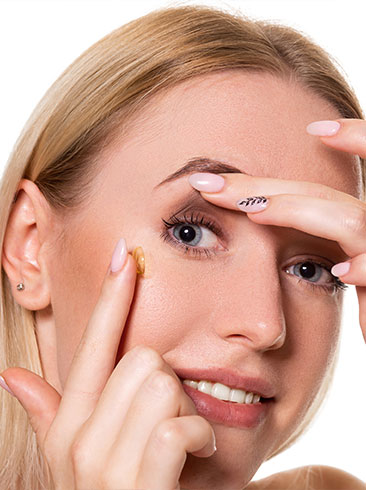 Get Contact Lenses in Calgary
Eyecare Plus is Calgary's dependable, total eye care destination with a boutique experience. From getting a routine eye check-up from our experienced optometrist to personalized service when choosing your prescription glasses or contact lens fitting, we make taking care of your vision convenient and fun.
Hard Lenses
Rigid gas permeable (RGP) contacts, or hard contact lenses are often the best contact option, especially if you have an irregular cornea, high prescription or dry eyes. With us, find the best hard lenses.
Soft Lenses
Soft contact lenses are made of soft, flexible plastics that allow oxygen to pass through to the cornea. Eye care plus is one-stop for all leading soft lenses brands.
Toric Lenses
Toric contact lenses for astigmatism are one of the most common products being purchased online that patients struggle with. Buy the best toric lenses in Canada from Eyecare Plus to ensure the utmost quality of the fit, vision and feel of your contact lenses. Available for near-sightedness, far-sightedness, myopia control & presbyopia
Comprehensive Eye Exams
Our experienced optometrists help keep you seeing clearly and protect your vision for many more years to come. We use gold-standard practices and equipment when it comes to providing accurate prescriptions and maintaining your eyes' health. From routine examinations, prescribing vision solutions and pre-screening for health issues, our doctors have your health and comfort at the forefront of their practice.
Quality Eyewear For Less
One of the biggest draws to Eyecare Plus is our extensive collection of designer eyewear brands along with more budget-friendly brands. We aim to bring quality frames and service to more people, which is why we're proud to offer 2 for 1 deal on our eyewear, giving you more options for your vision needs.
Personalized Service
We love matching people with their new favourite glasses or sunglasses. We understand that you have no shortage of options when shopping for your eyewear, which is why we've committed to creating a memorable experience when you visit Eyecare Plus. From recommending styles to complimentary adjustments, we're here to make your visit at Eyecare Plus convenient and pleasant.
Our Eye Examinations Include
Eye Care Solutions Personalized To Your Life
Whether you're looking for an optometrist for your newborn or you're a senior that has just celebrated your 100th birthday, we are happy to help. Eyecare Plus was founded on the principle of exceptional eye care! At Eyecare Plus, we have carefully curated a team of professionals that have undergone advanced training. We adhere to superior customer service standards and we value every patient that walks through our doors. We promise to provide premium eye care to Calgarians by staying attentive, focused and dedicated to our profession at our Signal Hill optical office.
Eyeglasses and Optical Store in Crowfoot
Looking for the best eyeglasses for you? Glasses are often crucial for our customers, as they help them see the beautiful world with more clarity. We provide the perfect prescription and help our customers get the right frame that suits their face shape and size. We supply a wide range of eyeglasses and contact lenses in Crowfoot — perfect for various styles and levels of vision. With the help of our friendly and highly trained staff, you're sure to find the right pair of eyeglasses for you. We carry the trendiest options for you to shop at an affordable price! Stop by our store to find your new pair.
Sunglasses in Crowfoot
Did you know that you can have your prescription added to your favourite sunglasses as well? Whether your sunglasses were prescribed by a doctor or not, they are required to keep our eyes safe. Our eyes need to be protected from the sun and help us see outside, without straining our vision. Regardless of the season, you should have a pair of sunglasses on! Our eyes are extremely sensitive to sunlight, which is why you should be protecting them from dangerous UV rays with a high-quality pair of sunglasses. Shop our unmatched selection of sunglasses in-store at Eyecare Plus
Contact Lenses in Crowfoot
Eyeglasses not your style? Not sure where to buy contact lenses in Calgary? Our Crowfoot optical store in Northwest Calgary has a variety of contact lens brands available. That way, you can be sure to find eyewear that doesn't get in the way of your true self. Not only is it essential to take good care of your contact lenses, but it's also imperative to ensure you're buying the right type for your eyes. Our optometrists can help you select the right brand for your specific dimensions and needs.
If you have any questions regarding the different types of  contact lenses, let us know! Our staff is fully trained on the different types of contact lenses. We're ready to help you find the best fit for you. We will cover proper maintenance and hygiene techniques to ensure you maintain your eye health at all times.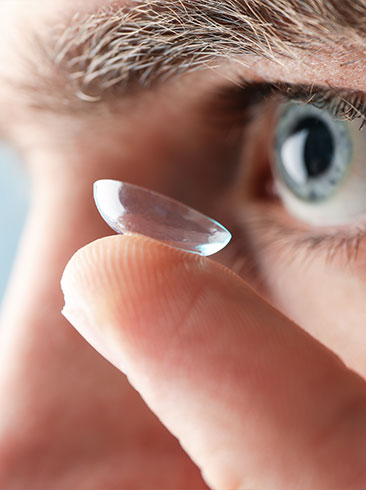 A Team You Can Trust
When you need the best in personalized eye care, go no further than your local optical store at Crowfoot Crossing in Calgary. Whether you're looking for Arbour Lake optometrists or Signal Hill optical stores, you won't regret visiting Eyecare Plus for quality service and products at competitive prices. Our staff at Eyecare Plus understand how important your eyesight is to you. That's why we offer a range of eyesight solutions tailored to suit your specific needs to help you get the best vision and the most out of life. Not only are we dedicated to high-quality customer care, but we are also dedicated to offering you great results at affordable prices.